19 Sep

Acworth History & Southern Charm Tour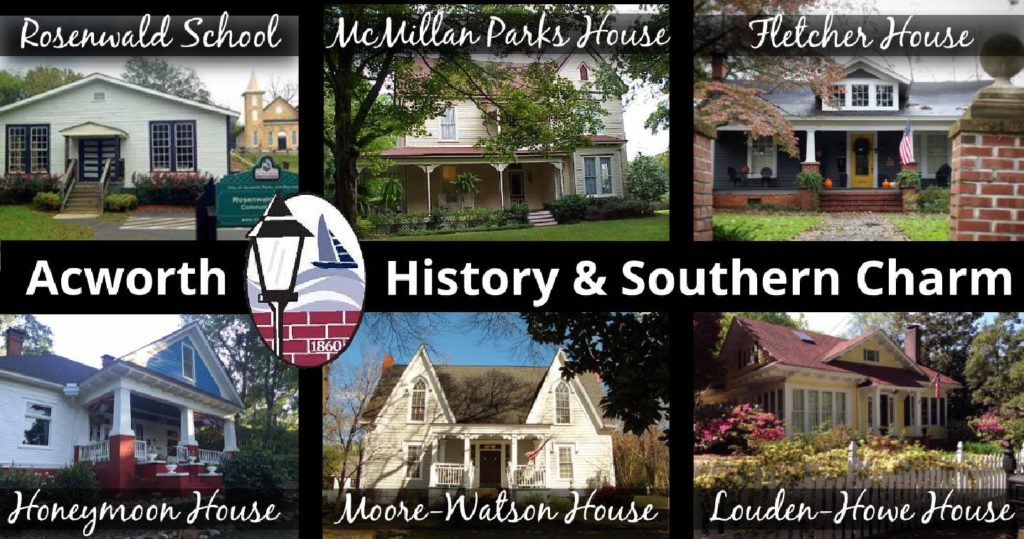 Brookwood Christian School is hosting a History and Southern Charm Tour of Acworth on Sunday, October 29 from 2:00 p.m. to 6:00 p.m.  The tour will begin at the J.L McMillan house, home of local historian Abbie Parks.  Guests will enjoy a wine and cheese reception and tour of the home.  Afterwards, participants will take a casual stroll to the following houses for an inside tour:
-Moore-Watson House (Herron)
-R.L. McMillan House (Allegood)
-McEver Building (Anchor Realty~Sponsor)
-Honeymoon House (Dunlop)
-Fletcher House, and
-Florence Burtz House (Rachelson)
The tour is an easy 2.5 mile walk. There will also be a shuttle bus, or you can drive and park in designated areas.
Along the way, the Serendipity House will be serving High Tea at its circa 1879 Queen Anne Victorian house from 2:00 – 5:00 pm.  You are invited to make this a part of your Southern Charm Home Tour experience.  The charge will be $10 per person.  Reservations: 770-966-1301.
The event will conclude at 7:00 p.m. with some door prizes!  Your ticket will also include a coupon for $5 off of $25 at Center Street Tavern, located in Downtown Acworth.
Proceeds benefit Brookwood Christian School's building fund.  Brookwood Christian School is a non-profit organization specializing in Language Based Learning Differences, such as Dyslexia, for students in grades 3-12.  They are Accredited by Georgia Accrediting Commission grades 1-12.  The school has been so successful that they are raising money for an expansion in order to better accommodate their growing student body.
Tickets are only $20 if purchased before 4:00 p.m. on October 14.  After Ocbober 14, tickets prices will increase to $30.
To purchase tickets, please visit: www.brookwoodchristian.com.
If you are unable to attend this event, please make sure to check out our historic locations on our Acworth Walking Tour, at your leisure.  Most locations won't be open for you to tour the inside but the quaint streets will surely make it an enjoyable experience.