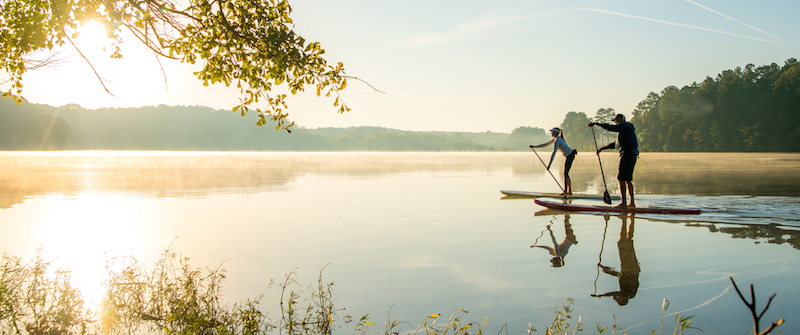 Paddleboarding Perfection Near Atlanta
Acworth is a premier location for paddleboarding in metro Atlanta. With easy access to two large lakes and home to the region's largest paddle board race, Acworth is a paddleboarders' playground.
Lake Acworth
Lake Acworth is situated just to the south of Lake Allatoona and is 260 beautiful acres of flat water. The City of Acworth limits boating in the lake to electric trolling motors — no gas powered motors are allowed — making it an exceptional experience for flat water paddleboarding. Lake Acworth is accessible from Cauble Park or South Shore Park and paddlers can put in from the beach or the boat ramp.
Lake Allatoona
Lake Allatoona, while not water craft restricted, is also very popular with paddle boarders and is home to the Toona Challenge, the largest paddle board race in the southeast. Dallas Landing Park in Acworth is the venue for the Toona Challenge each August and paddle boarders have ample places to launch and spend a day on the lake.
Paddleboarding Particulars
HOURS: Lake Acworth is open 7AM to 11PM year round
FEES: On weekends during summer months Cauble Park has a $10 parking fee, Dallas Landing and Proctor Landing have a $5 parking fee per car, everyday for non-residents.
RENTALS: During summer months, boards can be rented at Cauble Park through Acworth Beach Rentals