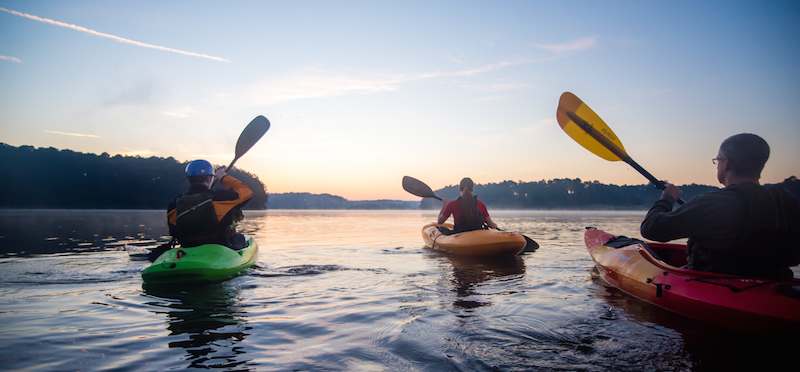 Kayakers have found a paddling in paradise in Acworth, Georgia. Located just 30 minutes north of Atlanta, Acworth has two lakes to choose from and several easily accessible spots to get on the water.
Lake Acworth
Featuring beautiful scenery, Lake Acworth a 260 acre lake tucked away in the historic district of downtown Acworth. Motorized boats are not permitted on Lake Acworth, making it an ideal location for people who love to experience pure nature or those who are just learning the sport of kayaking.
Kayakers can get easy access Lake Acworth via Cauble Park. Featuring a sandy beach, a boat ramp, and walking distance to downtown Acworth, Cauble make a great home base for a day of kayaking.
Lake Allatoona
For the more experienced kayaker, or those just up for a challenge, put in from Dallas Landing Park and spend the day exploring Lake Allatoona. This lake touches Cobb, Bartow, and Cherokee counties and has beautiful sights in the Red Top Mountain Area. This park is only open from mid-April through mid-September each year.
Kayaking Details
HOURS: Lake Acworth is open 7AM to 11PM year round, Dallas Landing is open 8AM to 9PM from mid-April through mid-September.
FEES: On weekends during summer months Cauble Park has a $10 parking fee, Dallas Landing has a $5 parking fee every day for non-residents.
PARKING: There is plenty of parking available at Cauble Park and Dallas Landing with easy water access.