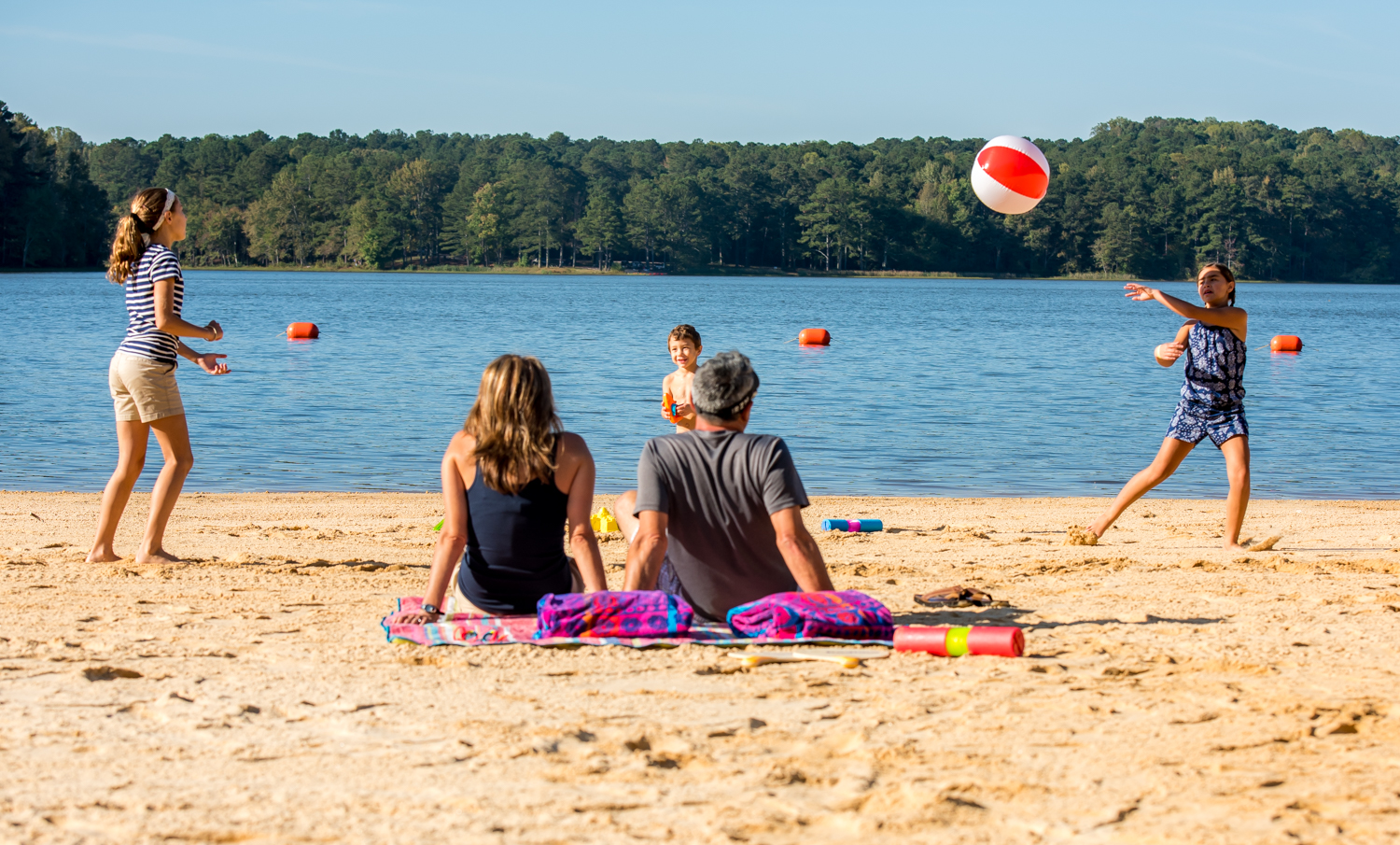 Finding quality time to spend with family is tough enough these days, but discovering unique activities to make that family time special is even tougher. Here in Acworth, there is no shortage of distinctive, engaging ways to make lifelong memories with the ones you love. Here is a list of some ways to help you and your family get the most out of your trip to Acworth!
1. LAKE ACWORTH AND CAUBLE PARK – If you're looking for outdoor family fun, you've found it right here! Take in the sights at one of northwest Georgia's finest parks, as well as the gentle waters of Lake Acworth. The expansive park contains fishing points, a boating ramp, a boardwalk that crosses the lake, a swimming area with white sand beach, rental facilities, two incredible playgrounds, and multiple picnic areas. In addition, there is a Veterans' Memorial at Patriots Point.
If your family is into paddle sports and small boats, Lake Acworth is a great destination. You can relax on the calm waters of Lake Acworth, passing the time kayaking, fishing, paddle boarding, or sailing. No gas-powered motors permitted and seasonal paddle sports rentals vendors usually set up shop in the summer. Read more about Cauble Park.
2. DALLAS LANDING PARK – Relax and enjoy the multitude of amenities at Dallas Landing Park, an 82-acre park on the shores of Lake Allatoona. Take advantage of its pristine beach, pavilions, picnic tables and grills, volleyball court, horseshoe pit, and convenient restrooms.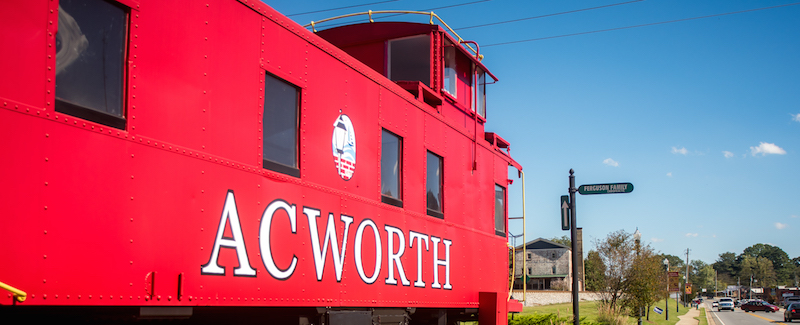 3. DOWNTOWN AND THE RED CABOOSE – Downtown Acworth offers an array of family-oriented things to see and do, set in beautiful and historic Civil War era architecture. Grab some parlor-style ice cream, do a little shopping for the family as well as yourself, or sit under the Acworth Depot and wave to the conductor as a train makes its way through town.
And speaking of trains, children will love Acworth's Red Caboose, a brightly colored train car, local landmark, and a nod to Acworth's history as a prosperous railroad town. Read more about things to do in historic downtown Acworth.
4. LOGAN FARM PARK – another one of Acworth's plentiful and scenic parks, Logan Farm Park contains family-friendly amenities such as a playground, half-acre fishing pond, lighted walking track around a multipurpose recreational field perfect for kite-flying, and plenty of picnic space! Read more about Logan Farm Park.
5. FESTIVALS – What would a list of family-friendly activities be without an abundance of entertaining festivals? And Acworth has a wide variety to choose from. From BBQ festivals with live music and fireworks, to the Halloween JamBOOree and costume contest, to the Art Fest celebration complete with the always energetic Kidz Zone, Acworth has a calendar full of fantastic family-oriented events to help you make memories year-round! Check out up the upcoming events and festivals in Acworth.
6. SANTA'S ARRIVAL – It's the biggest event of the holiday season – the day the man himself, Santa Claus, arrives at the Depot in Downtown Acworth. But how will he arrive, that's the question! A horse-drawn sleigh? A fire truck? A '68 Camaro? You'll have to be there to find out. From pictures with Santa, puppet shows, carolers, hot chocolate, and the festively decorated downtown shops, Santa's arrival is one of the most fun of Acworth's holiday traditions. Santa arrives in early December – check out the events page and mark your calendar now!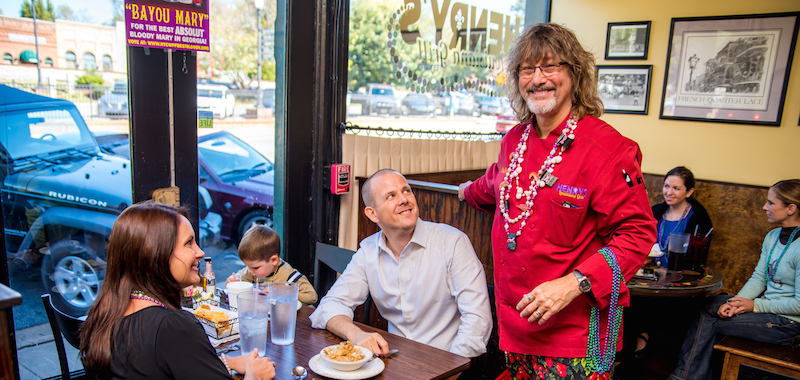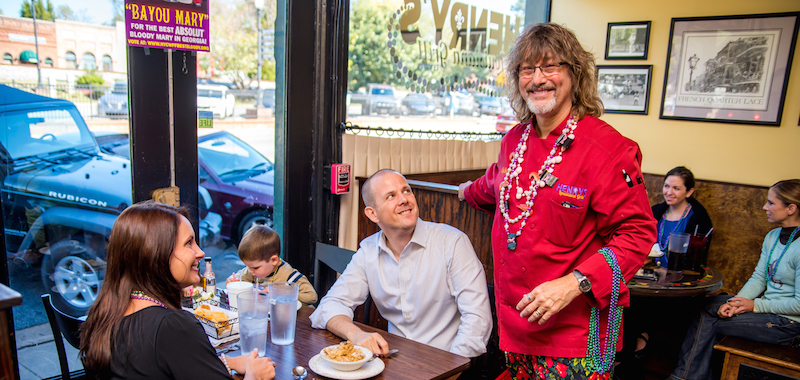 7. DINING – Acworth's eclectic variety of vibrant restaurants creates a seemingly never-ending selection of family-friendly dining choices. Whatever makes your mouth water, from spicy to savory to sweet, there's definitely something for every taste. And what kid (or grown-up!) wouldn't love the homemade ice cream, cakes, and other sweets found in acclaimed Historic Downtown Acworth? Just be sure to bring your appetite, because, with all these choices, you can't go wrong!
8. SHOPPING – Shopping opportunities abound in Acworth. Known for its unique collection of merchants in the historic downtown area, Acworth has many boutiques, jewelry, and gift shops, book stores, art galleries, flowers, and of course, food. But that's not all! Acworth also has several shopping destinations for the whole family, including Cabela's, Target, Justice, Petco, and many more! See all the Acworthy shopping options here.